What Are Miniature Cows?
"Mini" Size
Miniature cattle are cows that are either bred down from larger breeds or are naturally small breeds. There are many different breeds, colors, and sizes. All of which are smaller than standard sized cattle. 
Basically there are 3 categories for cows. 
Mid size miniature or Classic are 42" to 48" at 3 years old
Full or standard miniature are 36" to 42" at 3 years old
Micro miniature are under 36" at 3 years old
You can use frame score charts to help determine what range your calf, cow or bull is or will mature into. Mini cows are frame scores from 000000 to 00000 for micro, 0000 to 0 for standard mini and 1 to 3 for mid size mini. 
Mini Cow Breeds
Breeds
Here are some of the different breeds available. Some of which are naturally that small, some have been crossed with other breeds or selectively bred down.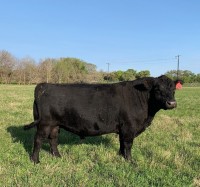 Lowline (Aberdeen) Angus
Lowline (Aberdeen) Angus
Lowlines were developed in Austraila. They are naturally polled and solid black in color. On average, cows weigh 650 to 950 pounds and are 36 to 42 inches in height, while bulls can weigh 950 to 1350 pounds and are 39 to 46 inches. They are a beef breed and their carcasses have a higher dressing percentage of marbled meat. Lowline angus are one of the most docile breeds, very fertile and calve very easy. The Lowline association changed their name to Aberdeen Angus in 2017.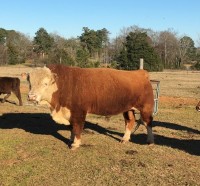 Mini Hereford
Miniature Hereford
Mini herefords can be horned or polled and have either been bred down by selecting the smallest stock for breeding purposes or are the "Original Herefords" before America bred them bigger. Registered ones are in the SAME herd book (American Hereford Association) as the big or standard sized Herefords. They are a beef breed and weigh 500-800 lbs for cows and a bull can weigh 1000+. They are red with some variation in color, from a deep cherry to a red orange color. They have a white face that runs behind their ears and down their chest, dewlap and under their belly. Most have a white stripe or feather running from the back of their heads to their withers. Their advantages being high feed conversion rates, easy calving and excellent weight gains. As well as delicious beef!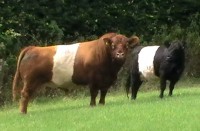 Belted Galloway
Belted Galloway
Galloways originated in Scotland and are polled (meaning no horns). They vary in sizes from classic to miniature and come in several colors with a white belt, black being the most common, red or dun belted. They tend to be a little taller than other minis. Their unique double layer of hair gives them more climate flexibility, both cold tolerant and heat tolerant when they shed the down layer. Though they prefer a colder climate, here in Texas they will hang out in the pond. Other notable qualities are hardy non-selective grazers, easy calving, good mothers and good milkers. Full blooded or crossbred galloways make a great beef choice. Also known as the "Oreo" cows.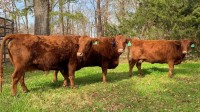 Red Dexters
Dexter
The dexter breed originated in Ireland and are a naturally small breed. Most are horned but they can be polled. Mature cows weigh 600 to 700 pounds and mature bulls weigh 1000 pounds, with heights of 36 to 44 inches. They are usually black, but can be red or dun brown. Dexters can be carriers of a genetic defect called Chondrodysplasia or the bulldog gene. They are a dual purpose breed for milk and meat. Other notable qualities are very hardy, efficient converters of feed to meat, and easy calving.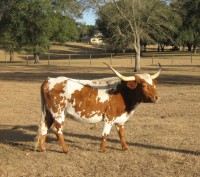 Mini Longhorn
Miniature Longhorn
Mini longhorns have been bred down from the standard sized longhorns to approximately 1/3 the size. They come in many colors and patterns! They are horned cattle, which after all, is one of their breed features. They are very hardy in dry climates, gentle, and are good lean beef producers. Side note, our longhorn Lotus Blossom has been dehorned for the safety of our polled or hornless cows.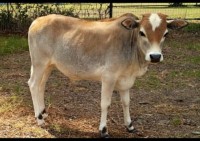 6 month old Zebu bull calf
Zebu
Zebu are naturally small cattle and may date back as far as 6,000 B.C in South Asia. They are horned and come in a variety of colors with a hump, similar to today's brahma cattle, only without the long ears. They are hardy and disease resistant. Mature cows weigh between 300 to 500 pounds, and bulls 400 to 600 pounds. The maximum height allowable for registered zebus is 42 inches. 
Other Breeds
Miniature Scottish Highland are used for beef and dairy. They are hardy and thrifty, have a stocky build, a long coat and horns. They adapt well to mountains and colder climates. 
British White cattle are polled and a smaller dual purpose cow, not necessarily a mini but not as large as standard sized cattle. They are the only ones I truly consider as a dual purpose, as they look like a walking steak that makes a lot of milk. 
Dairy breeds are also available such as Miniature Jerseys. 
Please Check Out Our Other Pages