About Us & Our Texas Farm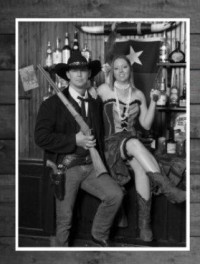 About Us
 Howdy folks! Yes we were both born and raised in Texas! We have a small herd of mini cows and live in Jacksonville Texas. Chris is the diesel mechanic that keeps the tractor going and does all the heavy lifting. I tend to the website, pregnancy testing, and vaccination schedule. Yes we name all of our cattle and wouldn't have it any other way. In fact most evenings they eat before we do. We are proud supporters of the Jacksonville FFA and members of the Jacksonville FFA booster club. We also support the Cherokee County Jr livestock show. FFA and 4-H have an excellent program for our youth, our future! Although we don't have any children of our own, we are sure God has grand plans in that area. You don't have to have kids to support your county's kids! 
Update: As of October 4th 2015, God blessed us with a son! Our sweet little man is Luke Rliey Homann!!!
Update: As of December 6th 2017, God blessed us with another son, Daniel Craig Homann!!! 
Update: We now have another website for Quilts! Check it out Backstitch Quilts! 
How We Got Started Raising Mini Cows
Oliver Miniature Acres got started all because of beef! You see my mom raises over 200 head of commercial momma beef cows. She supplied us with the same tasty beef I've eaten my entire life, until I bought land in the country. I went home at some holiday with my cooler and she refused to fill it up, she said "you have land raise your own beef". So immediately I started looking for something I didn't know existed. Bought 2 young heifers, told my mom how it will be a while till I have something to butcher, got my beef and then sent pics. Then I had to explain why they were so small!